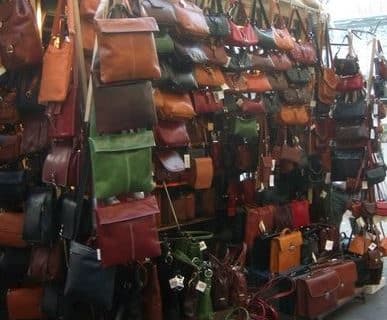 It is difficult to think of describing the many beauties of the San Lorenzo market in an article of a few lines but we try, because this exhibition space deserves at least one visit, if you are in Florence, and is one of the most particular and typical places where you can meet flavors and genuinely Tuscan perfumes, shopping and having an exceptional setting for your last selfie!
The two sections of the market
The San Lorenzo Market is exactly divided into two parts: one inside, known as the Central Market and dedicated mainly to food, shops, restaurants and fast food, and the other outdoor section, organized around to the Central Market building, a glass and cast-iron structure built towards the end of the 19th century by Giuseppe Mengoni, the architect of the Galleria Vittorio Emanuele in Milan.
A taste experience
Fruits and vegetables, bread and pastry, chocolate and honey, fresh fish, fried meatballs, meat and sausages, cheese, pizza and fresh pasta, wine shop, lampredotto, sorbets and ice creams … All the activities of the Central Market are conducted by artisanal traders that have in common the passion for their profession. Going from here is a real dip in tradition, in good Tuscan and Italian cuisine, with its quality ingredients, a place for gourmets who want to experience a unique, tasteful experience.
It can be a good idea, between a museum and a church, to put on your march the visit to the San Lorenzo Market, perhaps at lunchtime or even for dinner, so as to taste the delicacies of Tuscan cuisine (they are about 500 seats available inside) and let yourself be tempted by the various tastes.
The paradise of the skin
Outside, among the streets that wind around the covered market, you can indulge in admiring leather objects, mostly ceramic artifacts and other local products, clothes, scarves, small ornaments, stationery objects, magnets and all kinds of cadeau to take home as a souvenir of your tour in Florence. But do not forget that at the San Lorenzo Market you can find many leather goods to complete your favorite look: bags, clutch bags, belts, wallets, jackets and jackets. The local craftsmanship here is really on display, it does not seem a gamble to call it "the leather's paradise".
You just have to choose
Allow us a tip: if you are willing to make serious purchases, first make a list of what you are looking for, if you need to give gifts, and allow yourself enough time to take a look at the various stalls before deciding what to buy, and plan a "extra budget" for a last deal, just for you!
There are so many options to choose from and without spending too much money, you will certainly find very tasty souvenirs for you and your friends. This part of the San Lorenzo Market is open every day, from Tuesday to Saturday. Enjoy your visit!