The wallet is an object used daily with frequency, as essential to carry banknotes, coins, documents and credit cards with you, as it is important to express your personality and your status. If a few decades ago the trend was to go around with a swollen wallet, today a more minimal and sober line is preferred. Both for those who have to buy their wallet, as for those who find themselves giving gifts perhaps to their partner, it could be very useful to take into consideration both aesthetic and functional factors. In this article we will give out some tips on how to pick the perfect wallet.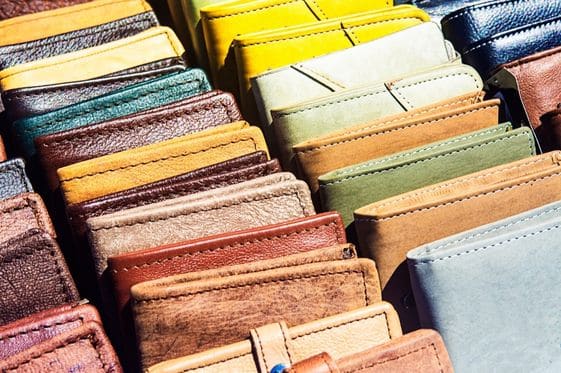 The wallet's purpose
First of all, it is important to know clearly what you are going to put into it. Keep in mind if you usually carry around the bare minimum and therefore some banknotes and a couple of credit cards; if perhaps for work reasons many cards and credit cards are used; if you will also keep the coins or if you will have a special purse for them.
You will then have to keep in mind how much organization you will need, and consequently how many compartments. From these considerations it will be possible to get a first idea on the capacity and above all on the model you will need.
In short, as seen, the choice is extremely subjective, as it varies depending on whether you are a minimalist type, for whom we would like to suggest a thin wallet without a purse, or whether you are a more sentimental and creative person, for whom instead we find a more suitable wallet that allows you to carry with you the coins found on that journey as a young man, the photo of your loved ones and why not some receipts. It all depends on you, but we want to help you along this path by suggesting what to pay more attention to.
Details to pay attention to when choosing a leather wallet: material
The material is undoubtedly the first factor to take into consideration, since the quality, resistance and durability of the wallet depend on it. If real leather is synonymous with durability and protection, there are also different alternatives for those who are not interested in a product that lasts forever, preferring a synthetic material such as nylon, aluminum or polyester, which allow for more colors. gaudy.
The material must also be selected on the basis of one's status: for a person who holds a certain job position and therefore needs to present himself with an elegant style, a genuine leather wallet is recommended; for younger people, on the other hand, the use of cheaper and more colorful wallets in synthetic materials is also largely allowed.
Come to have a look at our man's wallet collection and browse every wallet Florence Leather Market has to offer.
Color, Size and shape
Color is an element that largely depends on the type of material: natural colors are more suitable for natural materials such as leather, while brighter and more artificial colors for synthetic wallets are also very interesting.
Other important terms of comparison are the size and shape, which mainly depend on the arrangement adopted to transport it. There are those who prefer a vertical wallet to carry in the jacket pocket, but also those who make a more sporty use of this object by carrying it in a trouser pocket, and therefore prefer a thinner wallet, with horizontal opening.  Take a look at our top seller vertical card holder Ivo GM, 
Functionality and Price
The functionality of the wallet also depends on the type of use made of it, and may or may not offer space for coins, credit cards or loyalty cards. In fact, many people choose their wallet almost exclusively based on the number of credit cards it can hold. Like our card holder Luigi, loved especially by our younger customers. Finally, another element to take into consideration is the price, which however is inevitably linked to the type of quality and durability that is sought. A genuine leather wallet is certainly more expensive than a synthetic one, but there is no comparison in long life.
For example, a genuine leather wallet, if made in compliance with the most ancient artisan techniques, is capable of lasting up to ten years, taking on a lived-in look and slightly changing shades.
Follow us on Instagram for more tips and tricks