The belt is definitely the most important accessory in everyday clothing for a man as well as being a very important element in defining the waistline of many types of women's clothing. There are endless types of belts: smooth or convex, lined or unlined, fine, high, colored etc. In this article we are going to look at the importance of the belt, what are the best leathers and show you some of our top choices.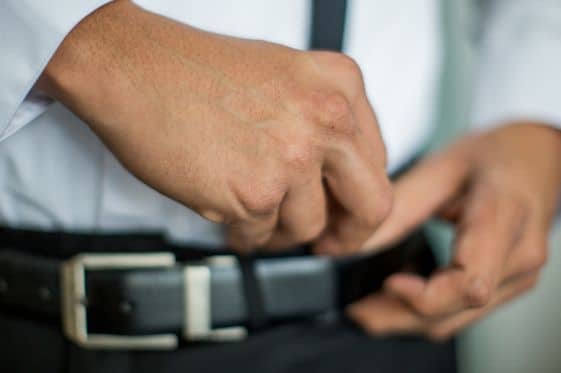 The importance of a good belt.
Many people underestimate the importance of a belt in highlighting the wearer's elegance or emphasizing a particular garment: take, for example, a woman's loose-fitting sheath dress. Without a detail at the waist level, such as an elasticized belt or a 1 cm, convex and wide belt, it would lose personality and remain anonymous without defining and enhancing the figure. The same is true for a man. Pants with a pleat, shirt and no belt? Impossible. Showing the trouser button would be unforgivable, on the contrary, seeing instead a belt coordinated with the colour of the shoes and, why not, even with the work bag would enhance its elegance by far.
What leathers to buy?
Women's belts
There is a wide choice of materials suitable for making a belt, but if we want to enhance its quality and elegance, leather is definitely the best choice. For a women's belt, to be used solely as a decoration, which takes into account good taste, style and elegance, we will look for calfskin, half calfskin or whole calfskin, chrome-tanned, with matte, shiny, laminated or stamped finishes. Alternatively, exotic leathers may also be used. Instead, to produce women's denim belts, we can use vegetable-tanned breeches, shoulders, forelegs or croups, polished or greased finishes, 2.5- to 3.5-mm. thick leathers resined on the underside, which do not require lining.
Men's belts 
As for the choice of material for making men's belts, again leather is by far the ideal solution. For elegant belts it can be calf, half calf, whole calf or breech, strictly chrome-tanned to increase softness, maximum thickness at 1.2 mm in order to be rounded. In case of sport belts, suitable for jeans or casual pants, the best option are vegetable-tanned leathers, breeches, shoulders or gropponi, up to 4.5 mm. thick, which with plasticized back, do not require lining and guarantee extreme durability even in case of customers with bellies.
Florence Leather Market's choice
For this early spring, the staff of Florence Leather Market suggests Samanta, the elegant and refined belt. A women's belt made of genuine calfskin leather.
This accessory will add a touch of femininity to any look. A versatile and multifaceted belt, as it can be worn either tight at the waist or just resting on the hips. The material used in its production is genuine calfskin, tanned and processed in Italian workshops in the heart of Tuscany.
For men, we have selected Diego, a belt characterised by a simple design, capable of giving a casual but still classic touch to your looks. Made of leather, a material that makes it flexible, shiny and above all very elegant. In addition to the fine leather used in the production of the belt, the buckle part is made of nickel-plated silver-coloured zamak. Like Samanta, the Diego Toscani belt is also hand-assembled by skilled artisans and experts in the field of Made in Italy.