Happy Women's Day 
International Women's Day is a global celebration which recognises the social, economic, cultural and political achievements of women around the world, while calling to advance the movement for gender equality.
A gift is an excellent way to express appreciation and acknowledgment for a woman's contribution to our life. But selecting the right gift is not always easier than it's said. It may be that the woman you like already has everything she needs. Still, you must come out with a unique, attractive and useful gift. Fortunately, on Florence leather Market's website you can find new gift idea;  From the colour red of Valentine's Day to the yellow of Women's Day. Yellow, besides, will be a hot trend for Spring/Summer 2022.
The best bag-gift for the international women's day
If you want to be original, on 8 March you may give as a gift to your friends/sisters/mums/grannies a fashionable item on a day dedicated to women. Browse the gallery, you will surely find a nice gift you like, besides the classic chocolates or mimosa bunches. We have selected for you a number of trendy pieces, it-bags, clutch, wallet and belts perfect for this occasion.
Florence leather market comes up with this handbag combo that you can gift to your sister or wife this Women's Day. Available with one main compartment, these handbags come with top zip closure. In addition to this, the offered product comes in the 23 x 9 x 13 cm dimension and weighs around 400 grams. All these handbags are designed using real leather material and 100% Made with Love by skilled and experienced artisans.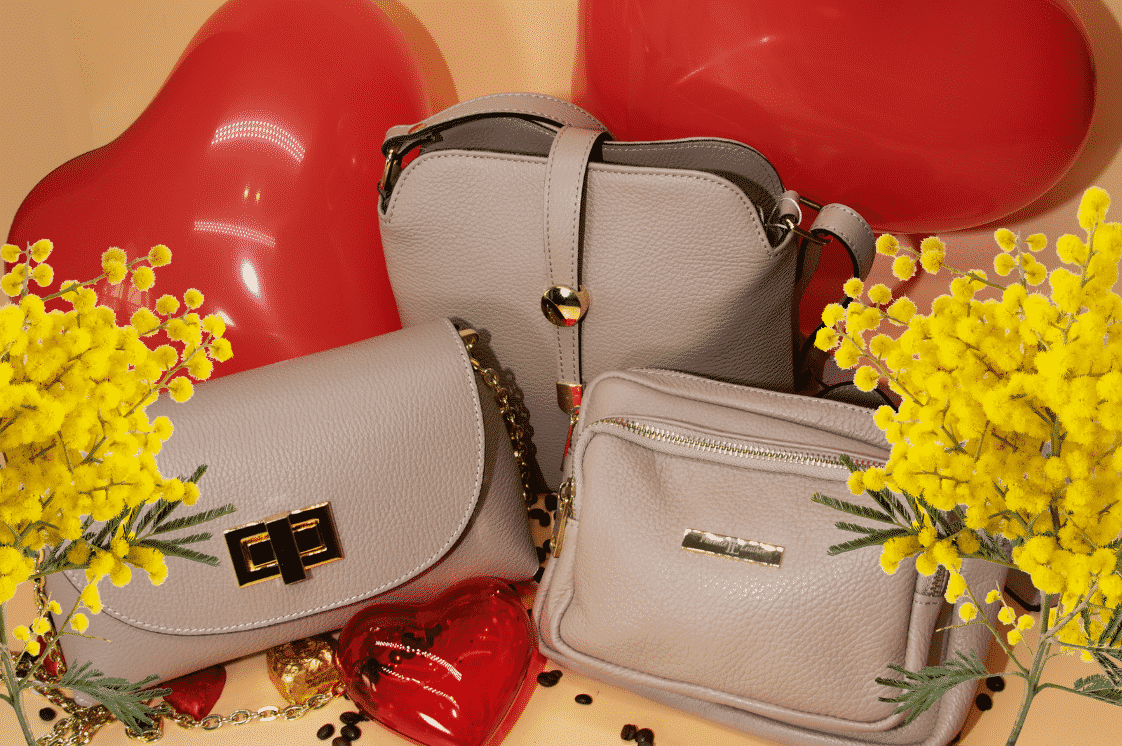 A gift with guaranteed success
Our Belinda bag comes with a soft and effective structure for every use. Of a soft grain leather refined and worked by our best craftsmen, and studied in the smallest spaces to ensure an all-round use. In addition to zippers and interior spaces, our Belinda offers an interior mini clutch with additional zipper to keep essential accessories close at hand and distinct as a collocation. Belinda is the go-to solution for any occasion, perfect for a leisurely stroll to hold everything you need. A gift with guaranteed success, especially if accompanied by a beautiful bouquet of mimosas. 
The favourite
Irma wants you to love what you buy and wear it often, which is precisely how you'll feel about its thoughtfully designed leather bags. The monogram Tote is a new-season favourite, available in two sizes and in two classic brown shades and yellow leather. This luxury bag is made from buttery-soft Italian leather, with room to fit a trio of add-ons, like a laptop sleeve, flap bag, and adjustable shoulder strap. 
With one foot in the past and another in the present, designs practical bags in earthy colour palettes that read nostalgic and on trend at the same time. This shoulder bag in real leather is easily convertible into a backpack particle.
It's hard to choose a favourite product from the brand's beautiful collections, but it's sure that inside our ecommerce store you will find the perfect article for the international women's day.